Welcome to the 2021-22 school year! We are excited to see our students back at school at Standard Elementary. School begins on Wednesday, August 18th. #SSDWeCare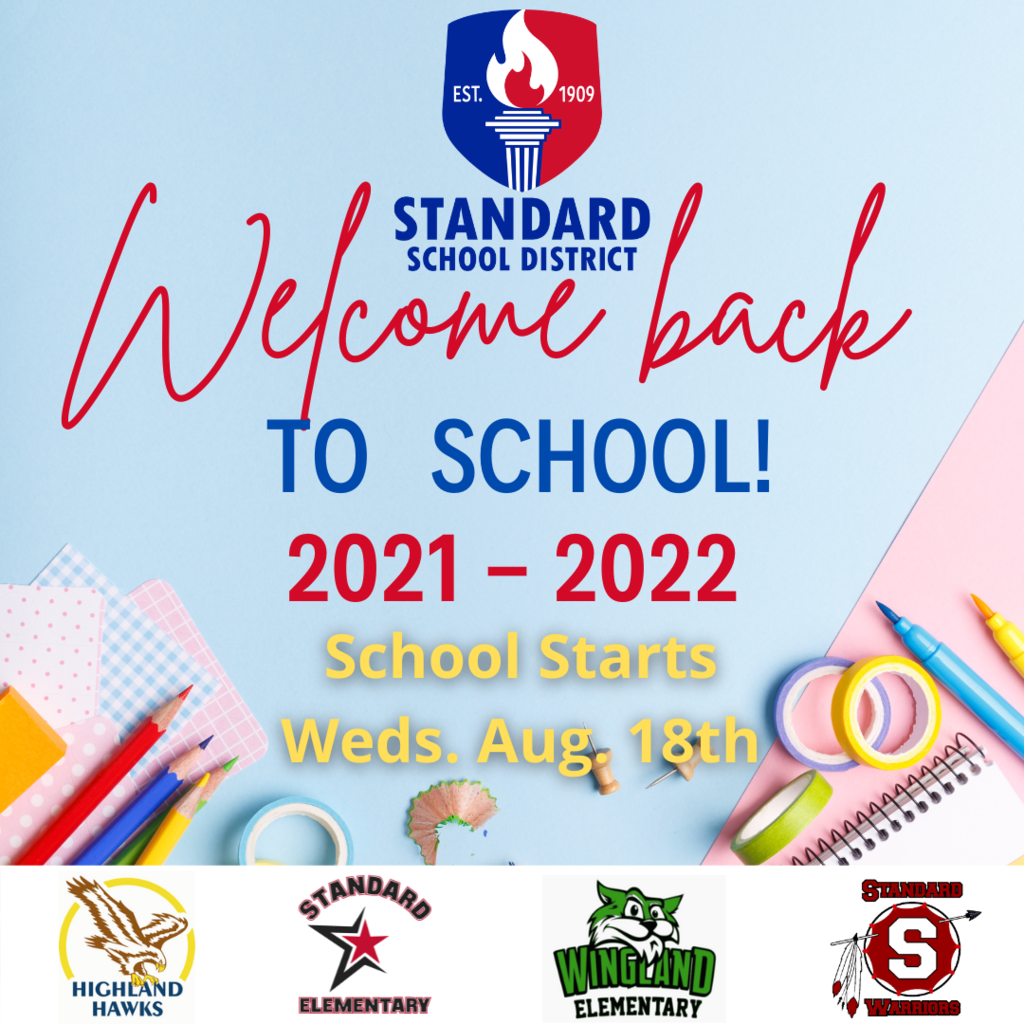 Meet the Faces of our District! Stephanie Ponce joins the Standard Elementary Special Education department this year. We are proud to have a new STAR on Team! #SSDWeCare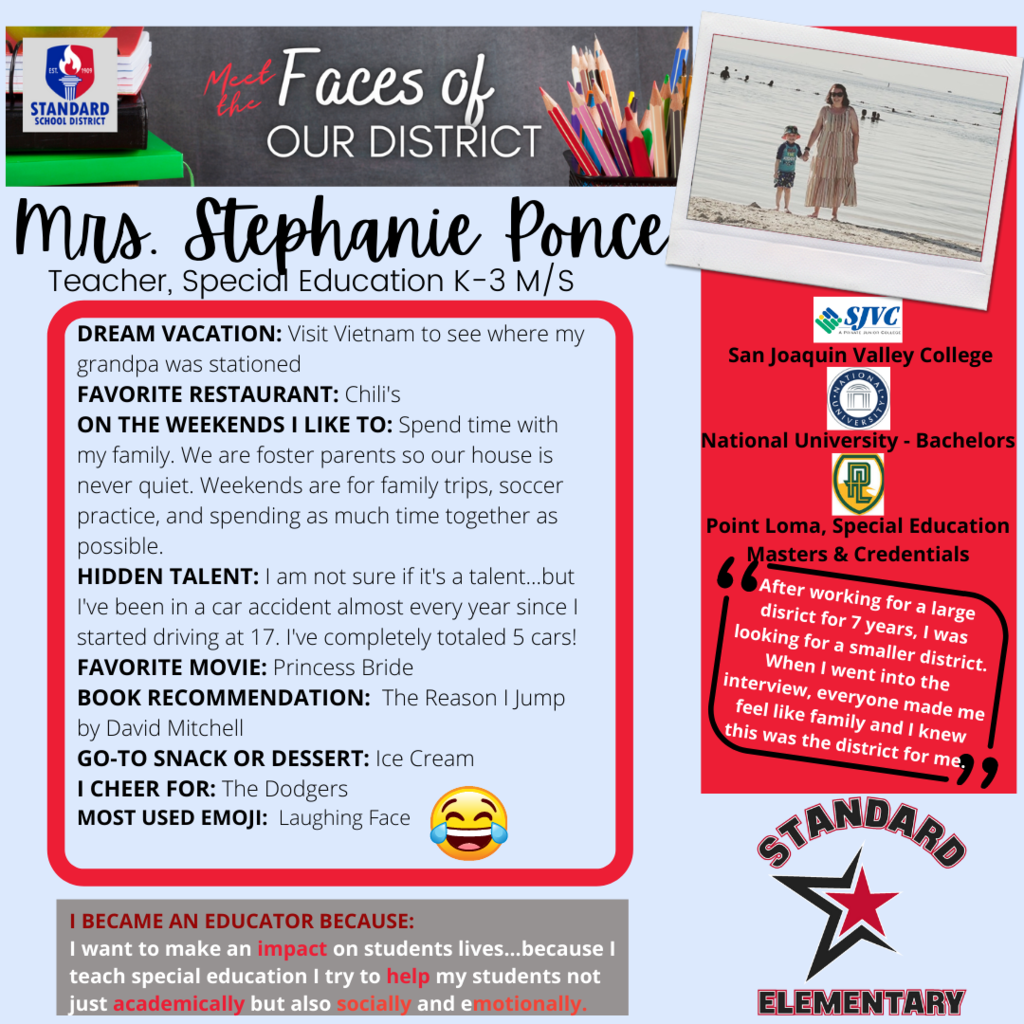 Class lists will be posted on Monday, August 16th by 4pm at the drop-off loop on North Chester. No changes to classes will be made at this time. School starts on Wednesday, August 18th.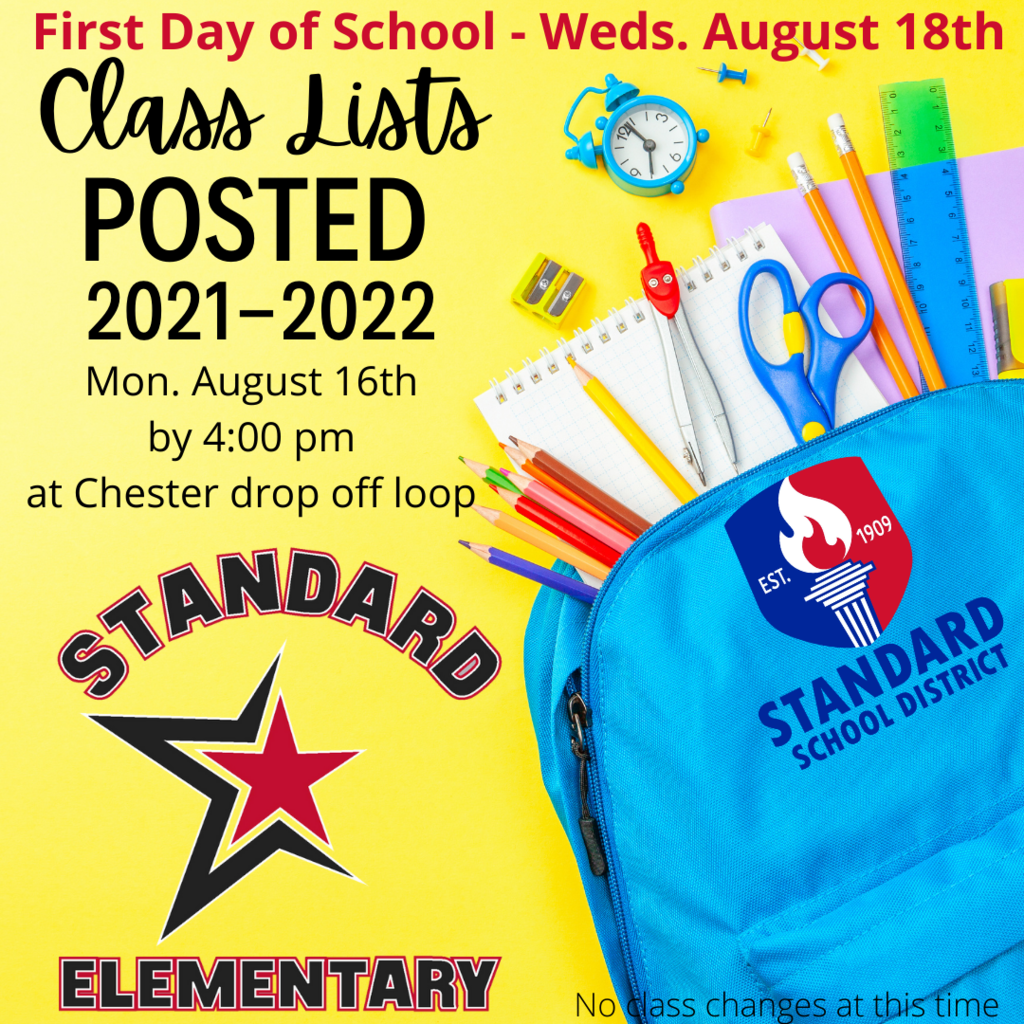 Congratulations to Standard Elementary for earning SILVER status for their PBIS program in the 2020-21 school year! We are proud of their work to provide strong supports for the students in our district! #SSDWeCare @standardelem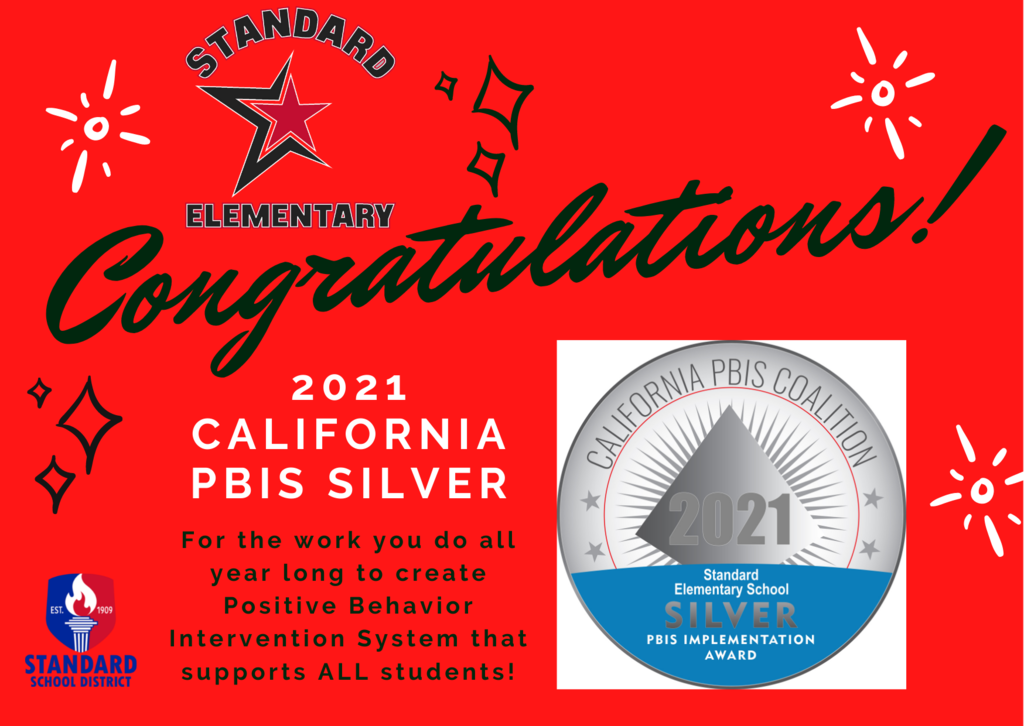 Parents of incoming TK & K students now have access to the Explore program at Standard Elementary! Follow the link to sign up! *This is for parents and families at Standard Elementary ONLY*
https://forms.gle/zXJn84Z8chZEnvq76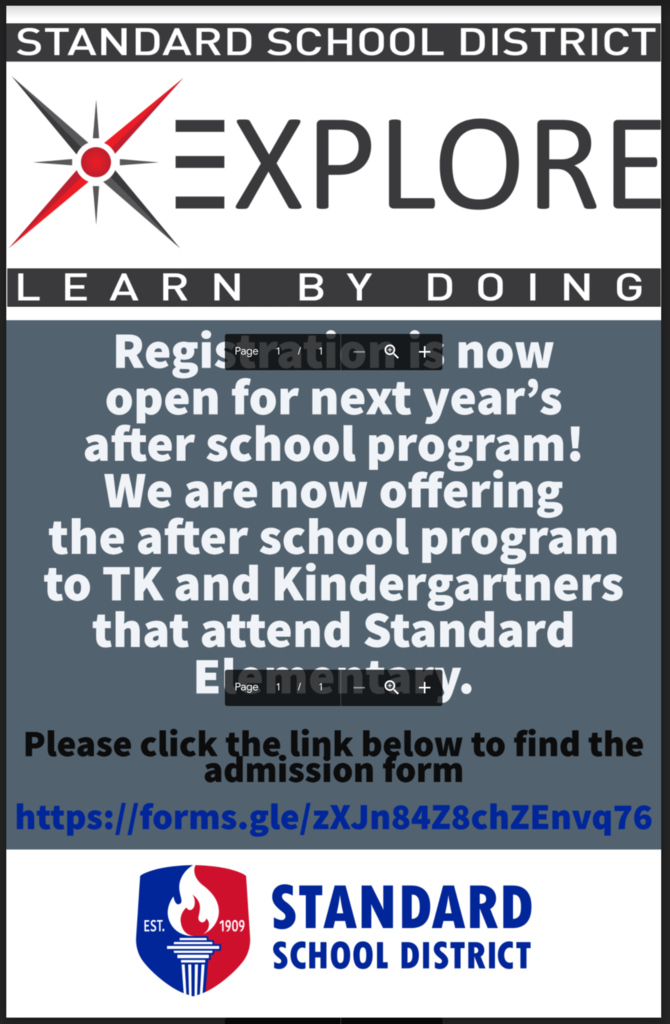 Sign up for our BONUS Summer Camps happening in July! Sports clinics and field trips!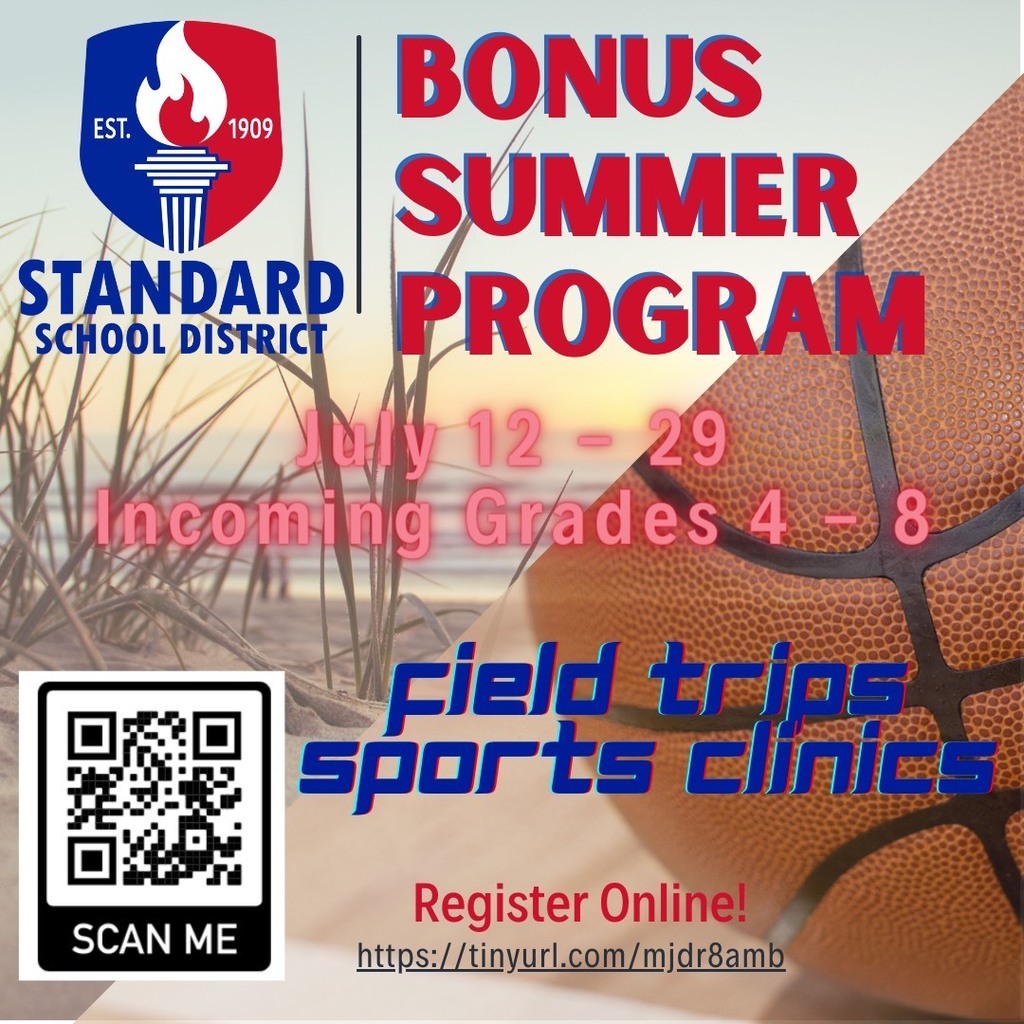 Please join us for our Bonus Summer Program for incoming grades 4-8. Please call 392-2130 for any questions.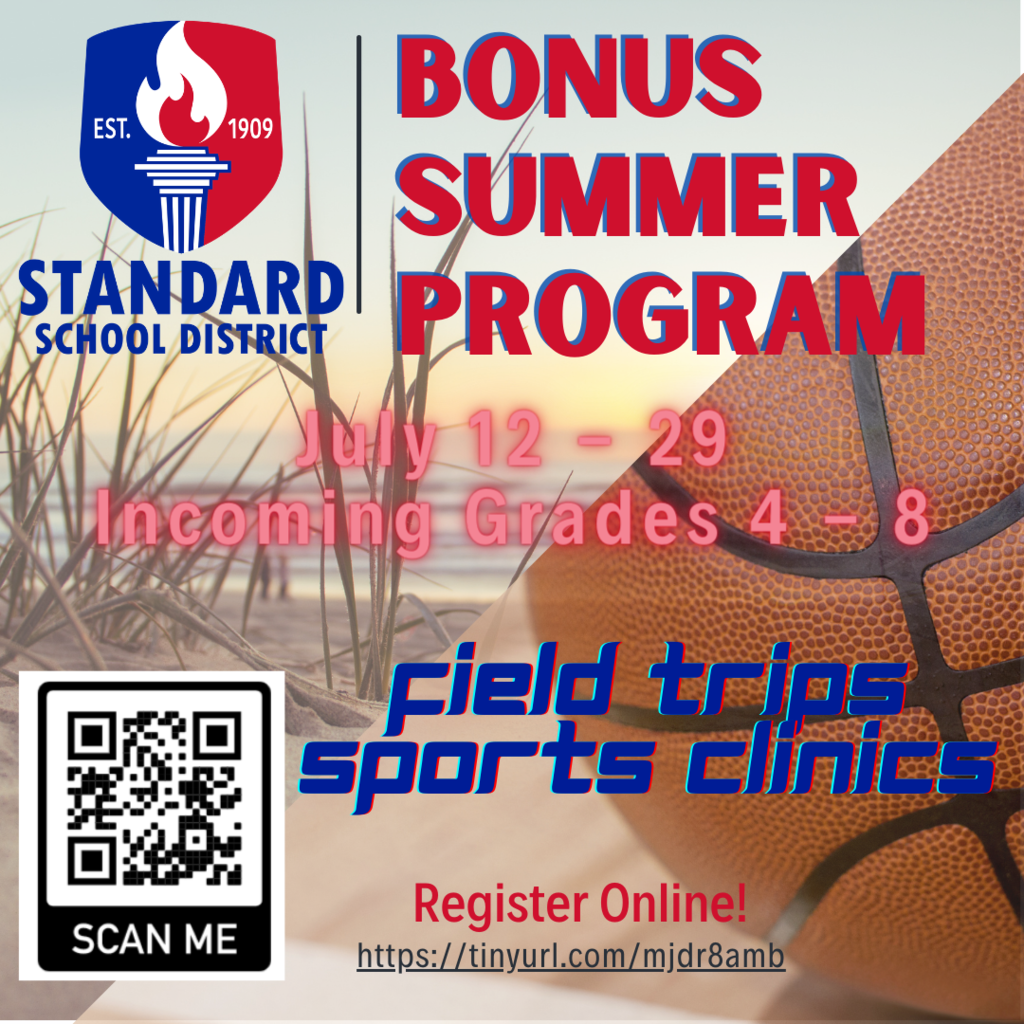 Join us for a Bonus Summer Program. July 7-29. Incoming 4th-8th grades. Please call 392-2130 for more information.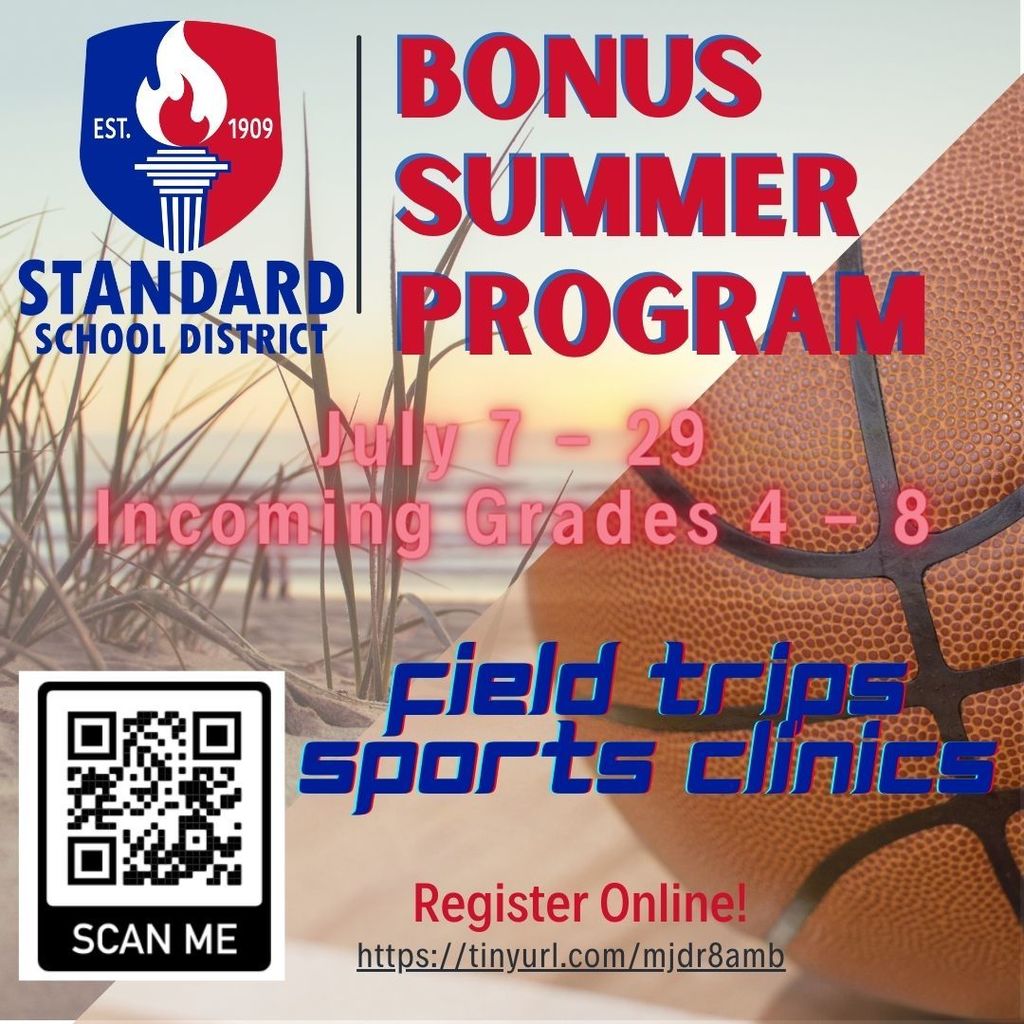 Dear Parents/Guardians: Please be advised transportation during the summer will only be available to students participating in the Extended School Year (ESY) program. There will be no bus transportation to and from school for the Summer Academy, Ready to Start, and Summer Camp Programs. Career and Technical Camp Students will be transported from Standard Middle School to the High School and back. Estimados Padres / Tutores: Tenga en cuenta que el transporte durante el verano solo estará disponible para los estudiantes que participan en el programa del Año Escolar Extendido (ESY). No habrá transporte en autobús hacia y desde la escuela para los programas de "Summer Academy" (Academia de Verano), "Ready to Start" (R2S) y "Summer Camp" (Campamento de Verano). Los estudiantes del "Career and Technical Camp" (Campamento Técnico y Profesional) serán transportados de la escuela Standard Middle a la escuela secundaria y viceversa.

Here is a direct link to the Summer Camp registration form (with a copy of the QR code for registration):
https://forms.gle/Bk6SEBJ29HoidrEZ9
Registrations after today will be put on a waiting list.

If you registered for Summer School - Summer Academy by April 30th, please check your student's email for enrollment status. You will also be receiving a letter in the mail. If you signed up after 4/30, the district will notify families soon if there is space available.


We have a waitlist for summer school! If you did not already sign up-use this form
https://forms.gle/JaK3Hr4Szzj5toEY7
to be added to the list. Call the school for more information at 392-2115 for TK-1st and call 392-2130 for 2nd - 8th.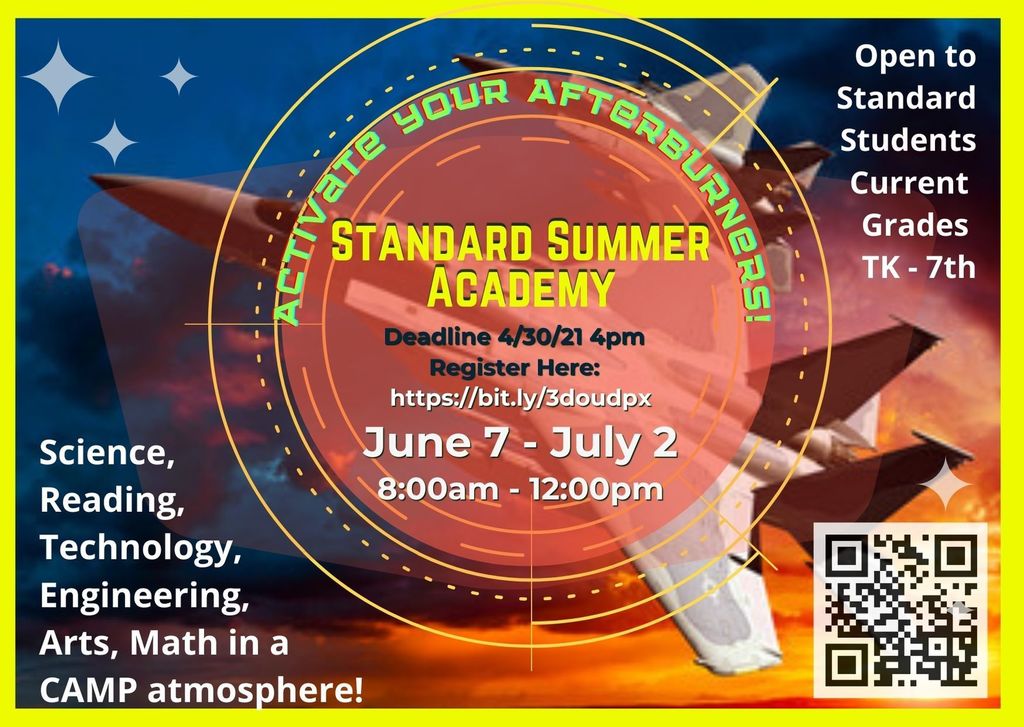 Free Dental Screenings and Dental Treatment for kids 0-6 years of age. Monday, April 19th from 12:30-2:30. Please call for an appointment at 661-392-2110 extension 132.

Free Dental Screenings and Dental Treatment for kids 0-5 years of age. Monday, April 19th from 12:30-2:30. Please call for an appointment at 661-392-2110 ext. 132




Read Across America Spirit Week March 1st - March 5th Monday: Mixed Up Monday! (Wear something mixed up, backwards, mismatched, tacky & crazy!) Tuesday: Top Hat Tuesday (Wear your favorite hat!) Wednesday: Wacky Wednesday! (Crazy Hair Day! Have fun and be creative!) Thursday: "Oh, the places you'll go" (Dress up as what you want to be when you grow up) Friday: Bedtime Story Day (Wear your Pajamas)